365/14: Momma has tool skillz.
My son got a new bike for his birthday. Assembly required.
But momma delivered!
365/*15: Through the windshield
A round window through the car windshield.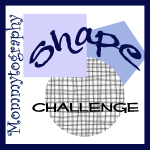 365/16: Robin
365/17: Cuddle bear
When I left for work, this is how my daughter's bear was set in a chair.
365/18: Sushi night or Jedi battle?
Sushi night in a geek household.
365/19: Walking pneumonia
Yep. I have walking pneumonia. This is my day.
365/20: Technocat
Our cat Cindel claiming the remote and my Blackberry.