I swear this conversation really happened. Back when I first got out of college, I was a teacher. An eager, bright-eyed and bushy-tailed new teacher. Ready to introduce myself to all the other teachers in the school.
"Hi, I'm Kristen Truong. I'm the new teacher in Classroom 10."

"Hi, I'm Jane Teacher (name obvious changed). Are you adopted?" Jane is now looking at me a peculiar way.

"Ummmm.... no...." My brain is now processing what she just said. Adopted? Where did that come from? Left field? Who asks that during introductions? Why does she think I'm adopted?

Then... I get it.

"No. I'm married."
I'm a white girl with an Asian name. I introduce myself to people, and they are confused. Unless my husband is present, many people cannot come up with the most likely scenario -- that I'm married. Is it really that hard to figure out???
"Oh... Where is your husband from?"

"From Michigan, but he's originally from New York. I'm from Michigan, too." I know this is not the information she wants, but I'm annoyed. I also provide the information she's seeking. "He's Vietnamese."

"OHHHH. I knew your name sounded foreign."
This was prompted by Mama Kat's writing prompt to talk about an awkward conversation.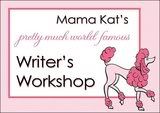 PS: I know I put my full name in this post, and that's a big "no, no" in the bloggy world, but it was just so needed for the context, that I just thought... what the heck. Yep, I've invited the stalkers. I'm so edgy like that. As if you couldn't already find me by just looking for a white girl with an Asian last name... :P