This post is in response to Mama Kat's writing workshop. The prompt is "Do you know a collector?"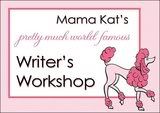 Do I know a collector? Mmmmm...
I feel like this is a trick question.
Anyone who knows me -- and my family -- already knows the answer to this question. In one word.
Trains.
My dad is obsessed with trains.
Lionel. O gauge. Amtrak. Narrow gauge.
Diesel. N gauge. American Flyer. Couplers.
Conductors. Steam. Gondola. Caboose.
Train layout. Tank car. HO gauge. Coal car.
Chessie cat. Cow catcher. Boxcar.
TCA (Train Collector's Association). S Gauger's.
These are the terms of my childhood. We planned our vacations around the locations of trains and train conventions. My parents' basement is full of boxes -- of toy trains.
We warn visitors. If he starts talking about trains --
we will not save you
. Just walk away slowly. He will not stop talking.
Just walk away.
My dad probably owns one of the largest collections of S Gauge trains in the world. Maybe not the largest -- but among the top dozen or so. And these collectors are a peculiar breed. Most of them played with toy trains as kids back in the 1950s, and continued to collect through their adulthood.
Ironically -- my dad has no train layout. Why? I'm not sure. You'd have to ask him. But then you'd have to hear the never-ending tale of trains. I don't think you want to do that. So, it will remain a mystery. Toy trains trapped in boxes.
Meanwhile, the train gene seems to have carried down to his grandson.